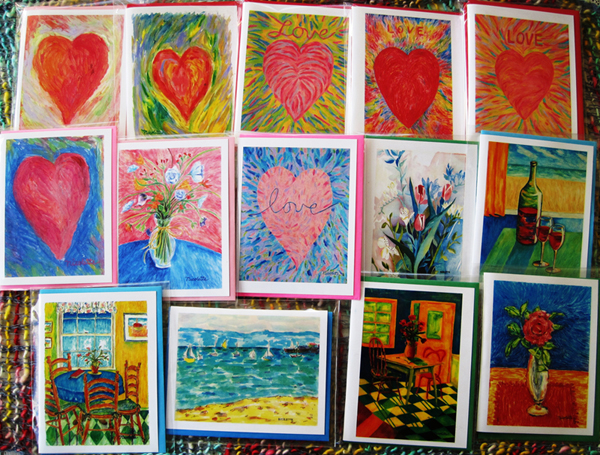 YOU ARE INVITED
New Art Reveal Party
Love Paintings, etc. by Nicolette
Wednesday May 11th 5-8PM
Giuseppe's Cucina Italiana/ The Garden Room
891 Price St. Pismo Beach, CA
Come See What's New Which Includes:
Brand New Heart Giclee's on Canvas,
Originals, L E Prints, Notecards, Art Tees, Handmade Pottery, Turquoise Jewelry
by Very Creative Central Coast Artist
Lots of Fun!
~COMPLIMENTARY APPETIZERS~
For Info Call 710-3090 www.Nicolettesart.com
YOU ARE INVITED!
New Art Reveal Party
Paintings by Nicolette
Friday May 7th 4-6PM
Dolphin Bay Resort 2727 Shell Beach Rd, Shell Beach
Come See "Love With Passion" and "Gift Bouquet"
Brand New Giclee's on Canvas by Central Coast Artist
Other Aquamedia Artwork and Notecards Available
Enjoy Sunset Hour With Complimentary Appetizers and Ocean View
A portion of sales will be donated to NC Womens Shelter
For Info Call (805) 556-3887 or (805) 710-3090 www.Nicolettesart.com
Living on the Central Coast for almost 29 years, local Artist Nicolette has been busy and very creative!
On Good Friday Nicolette sold 2 originals!
Before giving them to new owner they were
made into high quality giclee's on canvas with UV protective varnish coating.
Like her other giclee's they look just like the originals but at much lower price.
She will be unveiling them at The Lido Lounge, Dolphin Bay Resort in Shell Beach.
Other paintings, limited edition prints and notecards will be on display for your enjoyment along with her handmade Raku vases .
3 1/2 years ago Nicolette was in serious accident with truck not stopping at stop sign. Her car was totaled and she is lucky to be alive!
Being creative is part of her healing process.
A great start to your Mother's Day weekend.
Come celebrate with Nicolette, very thankful mother of three!
V. I. P.
Vegetarian Inclined People
Come join us for a wonderful time of great food, fellowship and fun!
You are invited to an all vegetarian potluck and guest speaker
The 4th Wednesday of each month starting April 28th 2010
At the Arroyo Grande Women's Club Located at 211 Vernon St From 6-8PM
Bring vegetarian dish to share, own place setting and 1 dollar to help cover costs.
Call Nicolette for more details: 805 710-3090
See you there!
First month's Topic: CREATIVE HEALTH
May 26th Topic: REFLEXOLOGY
July 28th Topic: CHIROPRACTIC/NEUROLOGY
Nicolette has lived on Central Coast for nearly 29 years. 25 years ago, a wife and mother of 2 young children, she attended her first V.I.P. potluck alone, wanting a break from always staying at home caring for them. She enjoyed it so much she attended each month regulary. Soon she was Vice President and later elected as President for over 2 years. You don't have to be a vegetarian to join the group but attending does seem to make you more health conscience. The guest speakers share on health related topics for 20-30 minutes. You also meet interesting people, learn new recipes and get to taste delicious new things.
You Are Invited!

To Nicolette's Real Estate Art Party
Friday July 17th 3-6PM
Rabobank 899 W Grand Grover Beach
Tweedy (chicken in artwork) will be there!
*Refreshments*
Hope to See You There
710-3090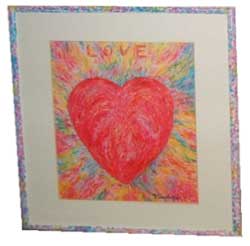 SPREAD THE LOVE EVENT
YOU ARE INVITED!
SUNDAY February 10th 1-4 PM


'LOVE WITH PASSION'
And other limited edition prints available for purchase for your Valentine

Central Coast Artist ~ Realtor NICOLETTE
at KELLER WILLIAMS REALTY
CENTRAL COAST
350 James Way, Suite 130
Pismo Beach
Wine and Gourmet Hors D' Oeuvres
Free Limited Edition Print Give Away Each Hour
Portion of sales donated to

NC Women's Shelter to Spread The Love
Come meet Nicolette 710-3090

WWW.HomesOnCentralCoast.com
Art and wine...a great pairing...local wineries welcome Artist and Poet Nicolette to the area.
Having lived on the Central Coast for more than 26 years now Nicolette has been making sales with local wineries. since she moved from Arroyo Grande last August. She started her Wine Series while living in Santa Maria about 7 years ago and it has become very popular in an area filled with wineries.
First she sold art to Meridian Winery off Hwy 46 in Paso Robles. She sold 16 pieces to Lion's Peak which will be displayed and sold in Solvang location.
She sold artwork to Castoro Winery in Templeton where her artwork will be on display in their tasting room in September and October of this year.
10 Love With Passion art pieces were sold to Peachy Canyon Winery also in Templeton.
Nicolette uses happy and romantic titles for her colorful impressionistic artwork. Joy in the Morning, A New Day, Toast on the Beach, Summer Bouquet and Healthy Living are just a few of the titles that were recently purchased by the beautiful Arciero EOS Estate Winery off of Hwy 46 in Paso Robles. These and other large Giclee's on canvas are made by an award winning company, have a clear UV protective coating and can be seen in the deli right next to their tasting room.
During the Winefest Nicolette will be selling her artwork in the tasting room at Arciero Winery on Friday May 20th from 2 to 6PM. (800 249-wine)
Also during the Winefest she will be selling her artwork at the colorful and friendly Tobin James Winery Saturday, May 21st and Sunday May 22nd on their patio which can be seen off Hwy 46 in Paso Robles. (239-2204)
Nicolette has been an Artist and Poet since childhood. Her business name is Abundant Life Art. She uses aqua media (all water based products) acrylics from France, brilliant water colors from Russia, on thick watercolor paper from Italy. A single mother of three with an enthusiastic and persistent temperament, she has used her love for color and texture, along with hard work, to pay off.
A lover of animals, she has pioneered a technique where she is able to capture her cat Rainbow with her chickens on canvas called her Rainbow Series. Unknown to some, hidden within these Pre'cis Originals on canvas are Bible verses about love or friendship.
Her artwork is also for sale at Bay Laurel Garden Center in Atascadero. She will be hanging her artwork at Barnes and Nobles in San Luis Obispo in July.
Nicolette is also starting to sell her own hand knitted scarves, made with beautiful colored yarns, called Necks to Heaven which will be available at the upcoming events or by order.
For more information please contact Nicolette at 805 710-3090 or P.O. Box 1803, Pismo Beach, CA 93448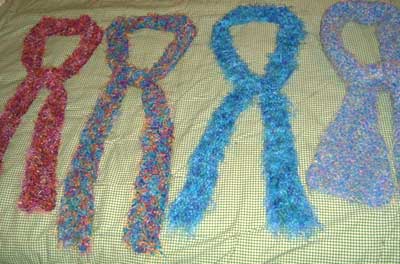 Nicolette's Handmade Scarves
$40 to $80